Signalhound 12 GHz

Spectrum analyzer and tracking generator
Maj : 02/04/13


Introduction
This small page is a quick evaluation of small and low cost spectrum analyzer and tracking, to replace my a classical equipment, big, heavy, obsolete and expensive, the 40 GHz HP8564E + HP 85645A

Before to read this page you must have an attentive look at the constructor's site, and don't forget in chapter "Demo" the Youtube intro which is a good presentation of the products, but in the reality of work, the sweep speed is not so idyllic...

Cette petite page est une évaluation rapide du petit analyseur de spectre et tracking à faible coût, pour remplacer mon équipement classique, gros, lourd, obsolète et coûteux, le 40 GHz HP8564E + HP 85645A

Avant de lire cette page, vous devez examiner attentivement le site du constructeur et ne pas oublier dans le chapitre "Demo" l'intro Youtube qui est une bonne présentation des produits, mais dans la réalité du travail, la vitesse de balayage n'est pas aussi idyllique ...
First considerations

Pros of Signalhound

Very small size, portability
Cheap price
Modern design and USB operation
Relative reactivity of team development when a bug is signalled (but now, It's slow).

Premières considérations

Avantages de Signalhound

Très petite taille, portabilité
Prix réduit (un peu plus de 3500 €, avec TVA, port et douane)
Design moderne et fonctionnement USB
Réactivité relative de l'équipe de développement quand un bug est signalé (mais maintenant, c'est lent).

Cons

Too many bugs, hangs often, with error messages : "Data missing", infinite loop "Downloading calibration...", ...
Slow sweep compared to the HP classic solution
Low upper limit at 12 GHz (but sufficient for the majority of activities)
Missing vector analyzer
Necessity to plug USB after booting and to unplug before stop, (very bad for connectors life !)


Inconvenients

Trop de bugs, bloque souvent, des messages d'erreur: "Data missing", boucle infinie "Downloading calibration...", ...
Balayages lents par rapport à la solution classique HP
Faible limite supérieure à 12 GHz (mais suffisante pour la majorité des activités)
Il manque l'analyse vectorielle
Nécessité de brancher les USB après le démarrage et à l'arrêt de débrancher avant, (très mauvais pour la vie des connecteurs !)
Before, it was the time of anchors boats.
My first granddaughter Céleste says:
" All is too big for adjusting this transceiver! "
Avant, c'était le temps des corps morts de mouillage.
Ma première petite fille Céleste dit :
" Tout est trop gros pour régler cet émetteur-récepteur ! "
Now, it is the time of little boxes.
My second granddaughter Héloïse says:
" With my doll, we adjust easily this shf filter."
Maintenant, c'est le temps des petites boîtes.
Ma deuxième petite fille Héloïse dit :
" Avec ma poupée, nous ajustons facilement ce filtre shf. "


Strange bugs / bugs étranges
Conditions of tests:


Very fast modern laptop, Core i7, on Windows 8 (64 bits)
Control in parallel on an external professional SA (Spectrum Analyser) ) 40 GHz, HP 8564E via a 18 GHz power divider on Signalhound tracking output (-6dB)
Screen copy of HP 8564E vith a GPIB usb interface

Conditions de tests :


Ordinateur portable moderne très rapide, Core i7, sur Windows 8 (64 bits)
Contrôle en parallèle sur un SA (Analyseur de spectre) professionnel externe 40 GHz, HP 8564E via un diviseur de puissance 18 GHz sur la sortie du tracking Signalhound (-6dB)
Copie d'écran du HP 8564E avec interface usb GPIB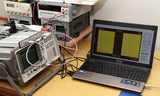 Click to zoom this picture of the installation.
You will see a strange screen display, showing that software hangs sometimes, and needs a PC reboot.

Cliquez pour agrandir cette image de l'installation.
Vous verrez un écran étrange, montrant que le logiciel se bloque parfois, et a besoin d'un redémarrage du PC.




First simple example of one of strange problems using sweep / Premier exemple simple de l'un des problèmes étranges en balayage
Power divider on tracking output.
One direction to SA (Spectrum Analyser) Signalhound (-6dB), the other one to the external HP 8564E (-6dB)
Adjustment SA Signalhound with Central Frequency 10 MHz, span 1 MHz
Start sweep -10 dBm
Screen picture on SA Signalhound (marker is -10-6 = 16 dBm) : All seems nominal

Diviseur de puissance sur la sortie du tracking
Une sortie vers SA (Analyseur de spectre) Signalhound (-6dB), l'autre vers HP 8564E (-6dB)
Réglage SA Signalhound avec la fréquence centrale de 10 MHz, span 1 MHz
Balayage tracking -10 dBm
Image de l'écran du SA Signalhound (marqueur est de -10 à 6 = 16 dBm): Tout semble nominal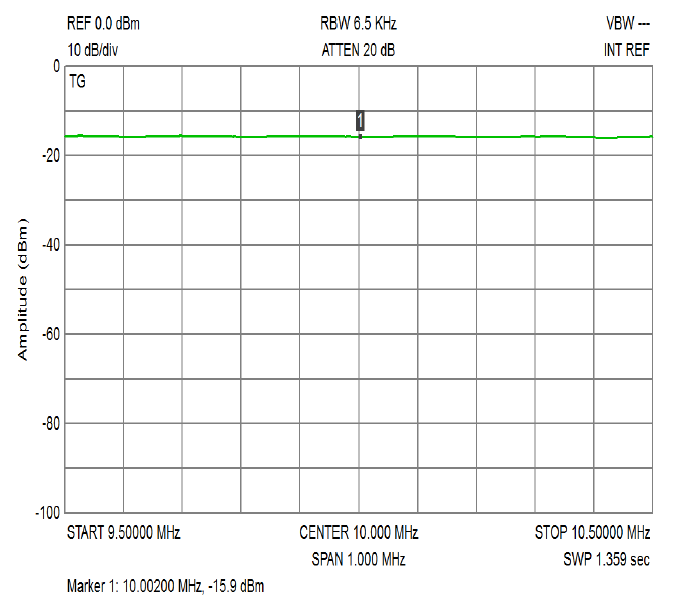 For control, GPIB screen picture of SA HP 8564E, showing spectrum up to 50 MHz
Around 10 MHz, no problem, marker is also about -16dBm, sweep about 1 MHz, nominal
Parasitic harmonics are present, first and second ones under 30 dB, others lower.

Pour contrôle, image écran GPIB du HP 8564E, montrant le spectre jusqu'à 50 MHz
Autour de 10 MHz, pas de problème, le marqueur est également sur-16dBm, balayage environ 1 MHz, valeurs nominales
Harmoniques parasites présents, premier et deuxième à moins de 30 dB, les autres plus faibles.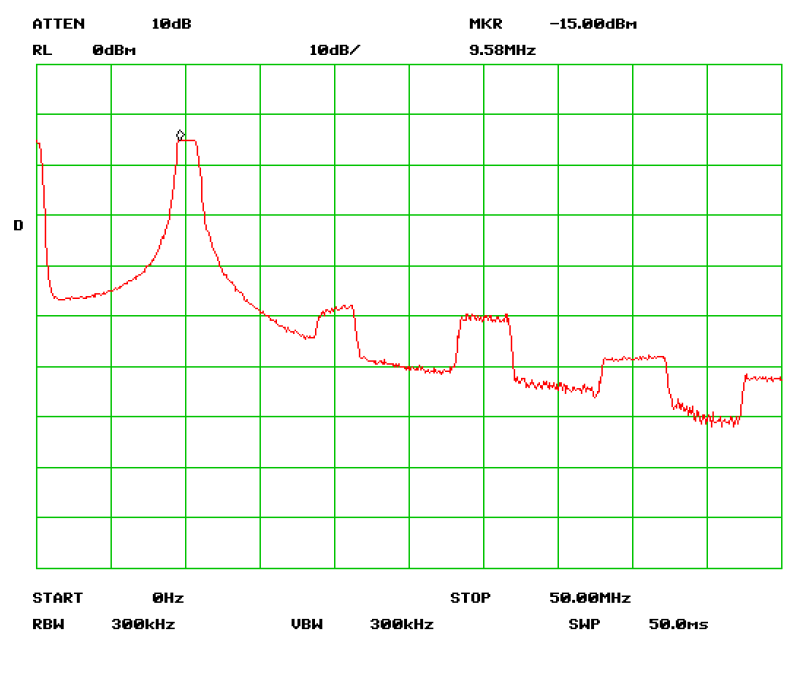 There was a big problem on software versions before 2.18b.
It is corrected now : Tracking Generator turns off when exiting TG Sweep mode

Always use the last version!

Il y avait un gros problème sur les versions logicielles avant la 2.18b.
Il est maintenant corrigé: Le tracking générateur s'éteint lorsque vous quittez le mode Sweep TG


Utilisez toujours la dernière version !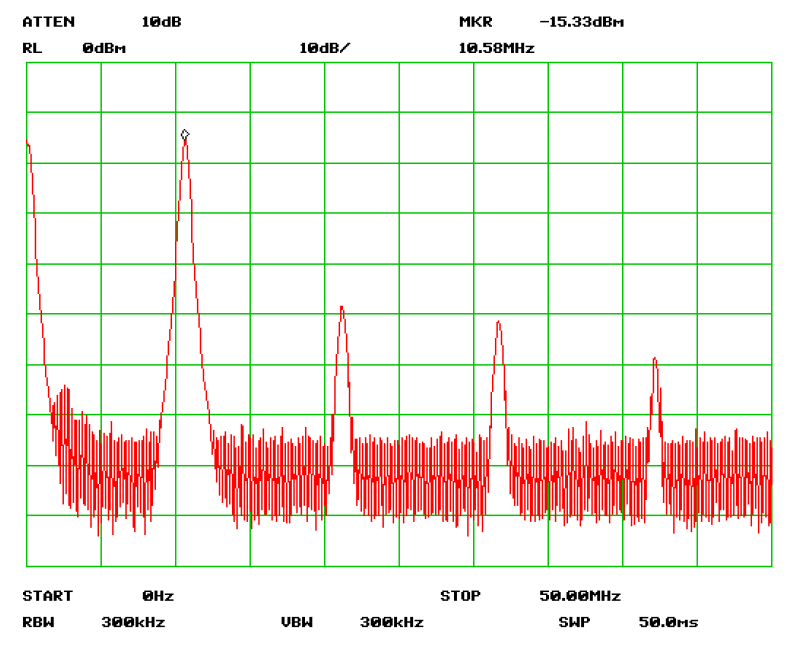 Second example : spurious frequency bug / Deuxième exemple: bug fréquence parasite
Same installation, but:
Adjustment SA Signalhound with Central Frequency 1 GHz, span 100 kHz

Screen picture of SA Signalhound (marker is -10-6 = 16 dBm) : All seems nominal

Installation identique mais :
Réglage SA Signalhound avec la fréquence centrale de 1 GHz, span 100 kHz

Image de l'écran du Signalhound SA (marqueur est de -10 à 6 = 16 dBm): Tout semble nominal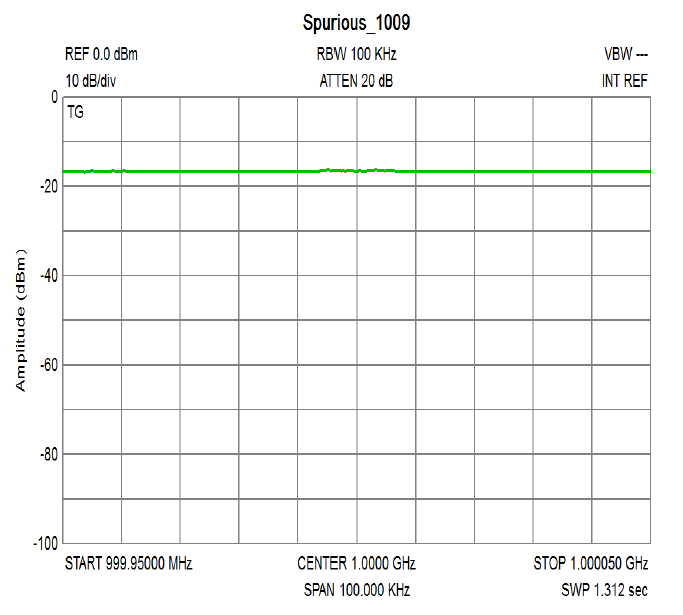 For control, screen GPIB picture of HP 8564E, showing spectrum with span 50 MHz
Around central frequency, no problem, but big spurious frequency at same level and 8.67 MHz above!


Pour contrôle, copie d'écran du HP 8564E, montrant le spectre en span 50 MHz
Autour de la fréquence centrale pas de problème, mais grosse raie parasite au même niveau et 8.67 MHz au-dessus !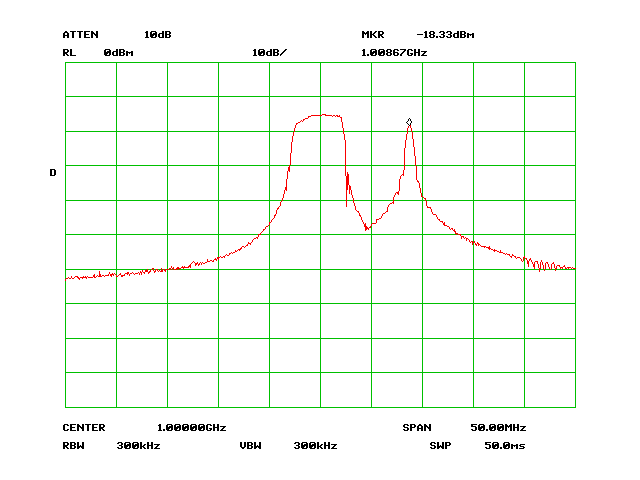 With old softwares, major bug when clicking on "stop" sweep, high level parasitic signals remains.
Corrected in February 2013 by software version 2.18b.

Avec les anciens logiciels, bug majeur en cliquant sur "stop" balayage, les signaux parasites de haut niveau restent.
Maintenant corrigé par la version logicielle 2.18b.




Accuracy of frequency / Exactitude de frequence
Document says clearly that internal 10 MHz reference is very noisy and it's realy true.

But now the good surprise.

To verify frequency value, the easiest way is to look an external reference signal, it is a 10 MHz rubidium, very stable and verified with a caesium source.
When using supplied utilities, surprise, frequency value is realy good, just 1.4 Hz under 10 MHz.
It is very acceptable for a so small unit.

For everyday frequency measurements, I don't need an external reference, I know the small error to correct.
I use only a source reference with small noise for noise measurement.

Les documents disent clairement que la référence interne 10 MHz est très bruyante et c'est réellement vrai.

Mais maintenant, la bonne surprise.

Pour vérifier la valeur de fréquence, le plus simple est de regarder un signal de référence externe, il s'agit d'un 10 MHz rubidium, très stable et vérifié avec une source au césium.
En utilisant les outils fournis, surprise, la valeur de la fréquence est vraiment bonne, juste de 1.4 Hz en dessous des 10 MHz.
C'est très acceptable pour un appareil si petit.

Pour les mesures de fréquence de tous les jours, je n'ai pas besoin d'une référence externe, je connais la petite erreur à corriger.
J'utilise seulement une source de référence à faible bruit pour les mesures de bruit.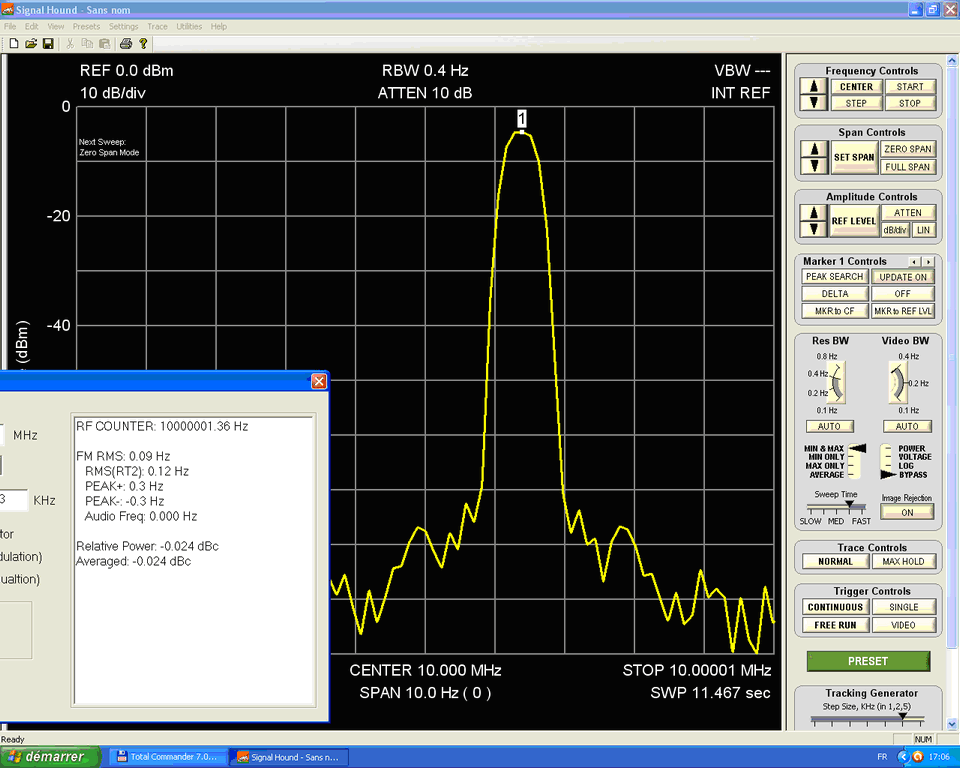 Questions to team development, and answers from Justin Crooks (

english only)
Thank you for your thorough review. I think I can provide a few answers:

Point 1: Did you plan shortly to make a new release to correct these major bugs for tracking output (2.18 software)?
Answer from Justin: The TG, at the end of a sweep, does not turn off. Rather, it continues to output the last frequency of its sweep. To turn it off, you can simply set it to 0 Hz, –30 dBm. We will integrate this into the software next revision so this will be the default action at the end of a sweep. Both of the big spurs seem to be the TG output still on. We will correct this so you will not have to manually set it to 0 Hz, –30 dBm.
If turning the TG "off" after each sweep is your primary requirement, I think I could add this fairly soon (over the next week or so). Let me know if this addresses the core of your concerns, or if I missed something major.


Closed, corrected (02/2013) by release 2.18b

Point 2: Smith chart utility tool works on a single frequency. What is the problem to improve for a frequency sweep?
Answer from Justin: The problem is there is no hardware mechanism for a phase locked sweep. We can frequency lock at any 10 Hz step, and measure the relative phase to null it out, but each frequency change breaks phase lock.
OK, no possible evolution

Point 3: How to read firmware version of SA and TG?
Answer from Justin: Help —> About will give you software and firmware versions.
To be completed: There is not an indication if version is for SA or TG, and no serial number of the boxes, waiting upgrade for correction for a more detailed information

Point 4: A lack of ergonomic
When powering on there is four times the panel "settings changes, RBW adjusted" that needs 4 clicks to start the panel "verify...". This is stupid, there is no other choice, why these traps, and not to start directly on panel "verify..."
Question 4: waiting upgrade for correction

Point 5:

A bug in subtracting traces
Very simple test, SA is connected to TG / Sweep on a band, for instance 10 MHz to 2 GHz / Copy A to B / Shows A-B
The result on the violet trace is about -20dBm (or anything else) and not zero ! The strange problem is that this error is not always present. I have repeated many times exactly the same protocol, sometimes it works well, sometimes I read a false value.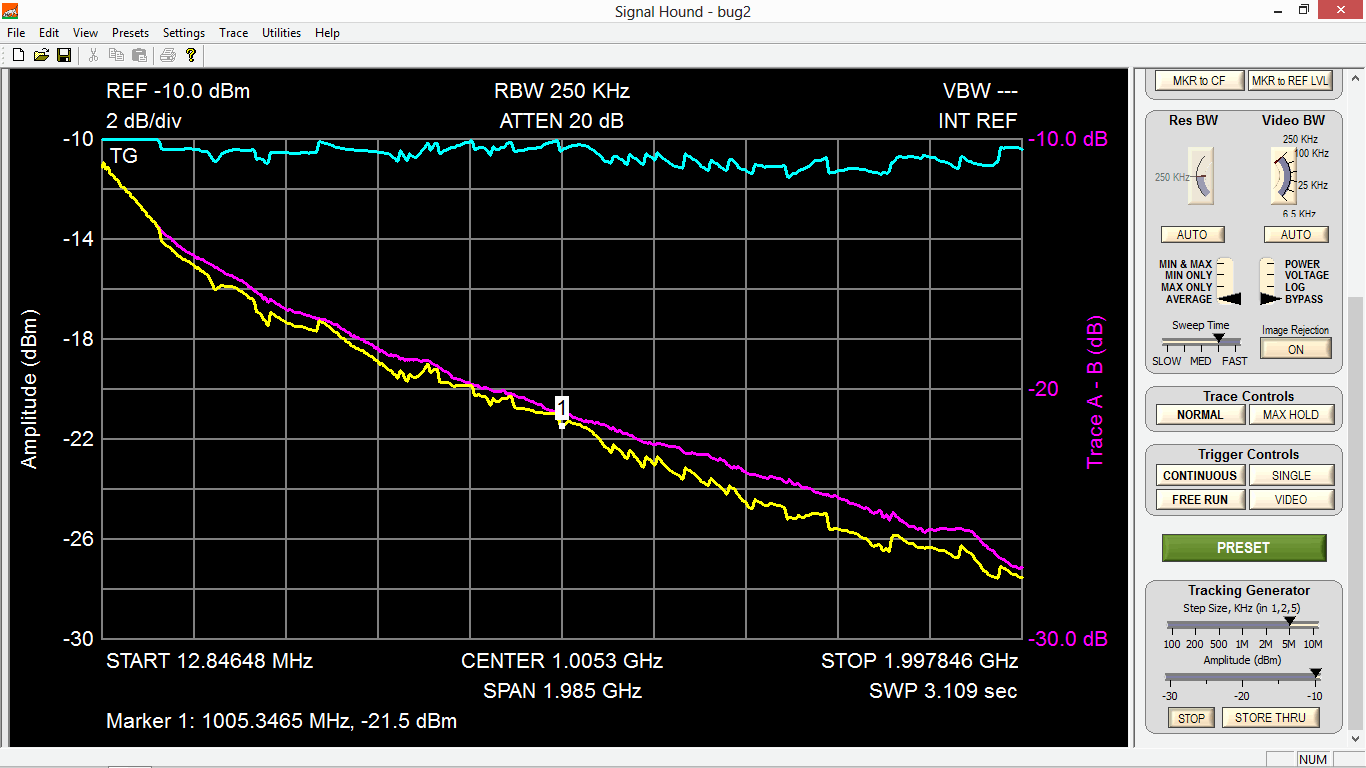 Exemple inserting a line with loss
Looks at this example, for instance at 1 GHz!
A (yellow) is at -21.5 dBm
B (blue) is at -10 dBm
A-B (violet) is at -21 dB
With classical arithmetic -21.5 - (-10) is about -11.5 but not -21...
Answer from Justin: waiting 2013 summer new software for correction

Other: To avoid the Error 5 (common in laptops), set your laptop power management settings, from the control panel, to "high performance." This tells your laptop to optimize data transfer rather than optimizing battery life.

Things seems to be on the good way!

At the end of march, Justin answered to numerous complains with this next mail, we try to be optimistic and gives a reprieve waiting a sunny summer...
The mail from Justin: < I have your review page in my "Favorites". We will be re-designing the software
this summer, and will make sure to fix the trace math, as well as dozens of
other issues customers have brought to our attention. I know the process is
slow, and I am aware that the trace math seems like an easy fix. Unfortunately,
the trace math was written and tested for the spectrum analyzer, with the "STORE
THRU" function for the TG.

If you can, use the "STORE THRU" with the TG, which automatically subtracts the
"THRU" from all subsequent TG sweeps. Use the "Trace Math" when operating
without the TG. We will sort through all of the features and implement them in a
solid, robust fashion for our next release. >
My opinion is that starting sweep using "STORE THRU" is a bad idea, because, if trace is not really flat (always in the reality), you must first have to understand the problem of the irregularities.
With starting first with "STORE THRU", you will see a subtracted trace without default, this is an illusion and not representative of the reality.

Mon opinion est que le balayage de départ en utilisant "STORE THRU" est une mauvaise idée, parce que, si la trace n'est pas vraiment plate (comme toujours dans la réalité), vous devez d'abord comprendre le problème des irrégularités.
En commençant d'abord avec "STORE THRU", vous verrez une trace soustraite sans défaut, ce n'est qu'une illusion et non représentatif de la réalité.




The problem of USB / Le problème de l'USB
USB choice

USB is not the best solution for a scientific instrument, Ethernet is faster, more reliable and at the same price in production.

USB versions have a short life and compatibility problems, Ethernet is stable and not dependent or computer versions of software.

SH made the choice of USB and claims that it needs two USB plugs, its a big problem on a laptop with only 3 USB plugs, one is used for mouse, no other one remains free.

Using a hub

In reality, this sentence is false, SH can works with some USB hubs on a 1 Ampere supply, but don't works on some other models.
I checked some USB hubs, only one is working on my very fast laptop USB 3 with minimal hangs.


Le choix USB

L'USB n'est pas la meilleure solution pour un instrument scientifique, Ethernet est plus rapide, plus fiable et au même prix à la production.

Les versions USB ont une vie courte et des problèmes de compatibilité, Ethernet est stable et ne dépend pas des versions de logiciels ou de l'ordinateur.

SH fait le choix de l'USB et affirme qu'il a besoin de deux prises USB, c'est un gros problème sur un ordinateur portable avec seulement 3 prises USB, une est utilisée pour la souris, aucune autre ne reste libre.

Utilisation d'un hub

En réalité, cette phrase est fausse, SH peut fonctionner avec certains hubs USB sur alimentation 1 Ampère, mais ne fonctionne pas sur certains autres modèles.
J'ai testé divers hubs USB, un seul fonctionne sur mon ordinateur portable très rapide en USB 3 avec un minimum de plantages.



Conclusion
Signalhound or not?

After many years using classic solutions, it is a revolution to works with these small boxes.
This page shows pros and cons, but in final, despite some defaults and frequency limitations, this configuration is the today's solution.

Software evolutions are expected, and in the future, many competitors will come on this market, but for the moment, despite various annoying bugs, and waiting next summer new software, this Signalhound is a good choice.
But, it is not alone on this market in quick evolution, so you must be a good hunting dog to choose your perfect pearl.

Signalhound ou non ?

Après de nombreuses années d'utilisation des solutions classiques, c'est une révolution de travailler avec ces petites boîtes.
Cette page affiche les avantages et les inconvénients, mais en définitive, malgré quelques défauts et les limites de fréquence, cette configuration est la solution aujourd'hui.

Les évolutions logicielles sont attendues, et à l'avenir, de nombreux concurrents vont arriver sur ce marché, mais pour le moment, en dépit de divers bugs gênants, et en attendant le nouveau software l'été prochain, ce Signalhound est un bon choix.
Mais il n'est pas seul sur ce marché en évolution rapide, donc vous devez être un bon chien de chasse pour choisir votre perle parfaite.

Choice of Signahound or competitors

There is some other competitors for spectrum analyzer measurement.

If you works only on VHF, UHF, Rigol has a cheap solution.

Rohde & Schwarz with the ZVH 8GHz gives an autonomous product completely finished, with vector analyse and without major bugs, with Ethernet link. It is a bit more expansive than SH, but if you add a very expansive separate vector analyzer, price of the RS single unit is very competitive.
I don't make RS my first choice for some reasons:

The limit of 8 GHz is too low for my operations on 10 GHz band
When I ordered SH, I was not thinking that it was full of bugs!
SH price was lower, but it is a bad reason, now I must to add a very expansive vector analyzer.

Choix de Signahound ou concurrents

Il y a quelques autres concurrents pour la mesure de l'analyseur de spectre.


Si vous ne fonctionnez que sur VHF, UHF, Rigol a une solution économique.

Rohde & Schwarz avec le 8GHz ZVH propose un produit autonome entièrement terminé, avec un analyseur vectoriel et sans bugs majeurs, avec liaison Ethernet. Il est un peu plus cher que SH, mais si vous ajoutez un très analyseur vectoriel séparé très cher, le prix du RS complet est très concurrentiel.

Je n'ai pas fait du RS mon premier choix pour quelques raisons:

La limite de 8 GHz est trop faible pour mes opérations sur bande de 10 GHz
Quand j'ai commandé SH, je ne pensais pas qu'il était plein de bugs!
Le prix du SH était plus bas, mais c'était une mauvaise raison, maintenant je dois multiplier mon budget pour ajouter un analyseur vectoriel 10 GHz très cher.

To complete the modern pocket laboratory

To replace all antique material, now good as boat anchors for mooring, with new small ones recent units with USB or Ethernet plugs, some complementary units are needed.

Pour compléter le laboratoire moderne de poche

Pour remplacer tout le matériel antique, bon pour faire des corps morts de mouillage, par des petites boîtes modernes avec prises USB ou des Ethernet, certaines unités complémentaires sont nécessaires.


The most difficult instrument to found is the vectorial analyzer. There is today a lot of modern VNA on the market, but their price (plus the one of calibration kit) explode with the upper limit frequency.
A 1 GHz is very cheap, but for a 10 GHz, the price is prohibitive, so don't dream to an hypothetic magical solution.

USB or Ethernet power meters and oscilloscopes are very easy to found now from various societies.

For low frequencies, the fabulous cheap microcontrollers permits at everyone to create its perfect tools.

L'instrument le plus difficile à trouver est l'analyseur vectoriel. Il existe aujourd'hui un grand nombre de VNA modernes sur le marché, mais leur prix (en plus de celui du kit de calibrage) explose avec la fréquence limite supérieure.
Un 1 GHz n'est vraiment pas cher, mais le prix d'un 10 GHz est prohibitif, aussi ne rêvez pas d'une hypothétique solution magique.

Wattmètres et oscilloscopes USB ou Ethernet sont très faciles à trouver maintenant chez diverses sociétés.

Pour les basses fréquences, les fabuleux microcontrôleurs bon marché permettent à chacun de se créer les outils parfaits.

Liens matériels de mesure et TV ham
Autres pages sur la mesure et le radioamateurisme :




Achat et vente de matériel électronique :


© Christian Couderc 1999-2022 Toute reproduction interdite sans mon autorisation

* Page vue 7848 fois IP : 3.223.3.251


Dernière retouche le 26 Mars 2019 à 12 h